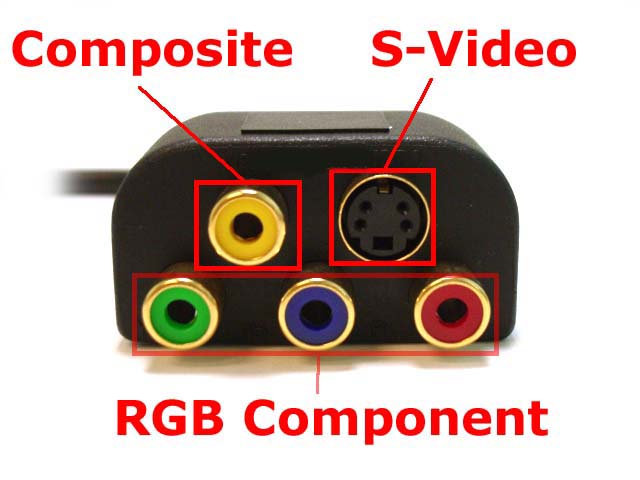 9Pin Video Out Cable.
YPrPb component output for direct drive of HDTV displays.
Please refer to your video card manual for display support.
S-Video - HDTV Breakout Pod
Connector
Input - mini Din 9 pin - Male
Output - Svideo(SVHS) / Component(RGB) / Composite(Yellow) - Female
Compatible with ATI 9-PIN HDTV Output Cable(Part Number: 6111017500G)
Compatible with:
ATI CARDS
Radeon X800 PRO VIVO

Radeon X800 XT

Radeon X800 XT PLATINUM EDITION

Radeon X1650
OEM Part 6111017500G
NVidia CARDS

GeForce 8600 GTS

GeForce 8800 gts

GeForce 6600 GT

GeForce 6800 GT

GeForce 7800 GT

GeForce 7800 GTX

GeForce 7900 GS

GeForce 8600 GTS

GeForce 8800 GTS
(Most Likely all Models with 9Pin Connector)

---

9-PIN VIDEO CONNECTORS

NOTE: This is a Evenly Spaced 3-4-2 Pin Configuration
Not your Standard MiniDin9.

Nvidia Geforce 6600GT Pin
Pin
Name
Description
1
CHROMA (C) Input
May be S-video luminance IN/CVBS IN (checked on a GT-N66T128VP card)
2
LUMA (Y)/COMPOSITE (CVBS) Input
3
GND
4
I2C SDA - I2C Data I/O
5
Pb Output
6
GND
7
LUMA (Y)/COMPOSITE (CVBS) Output
8
I2C SCL - I2C Clock Output
9
CHROMA (C)/Pr Output