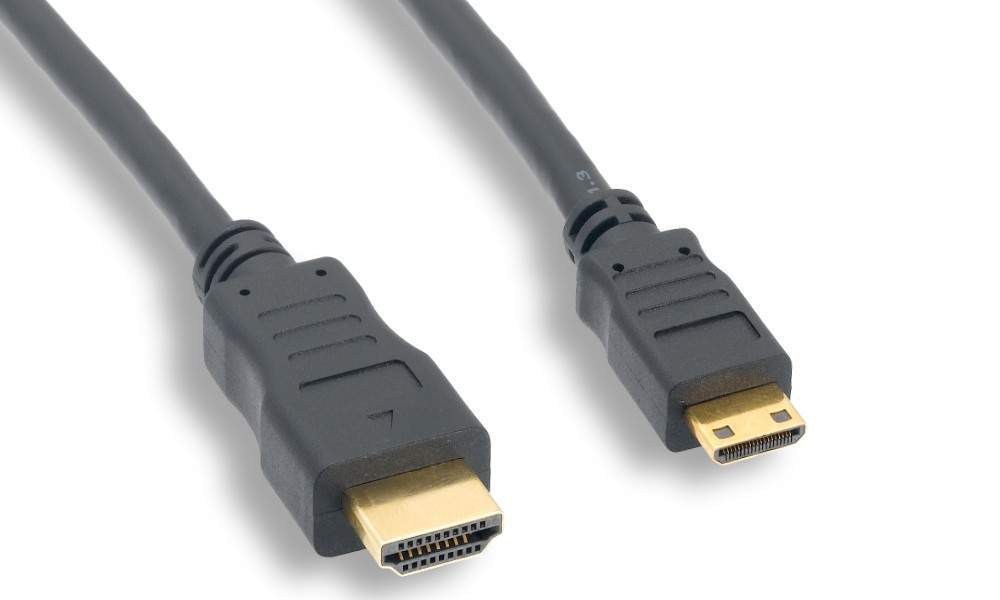 HDMI Mini-C Male to HDMI Standard A Male. 18 Inches
Adapter Cable to Convert a Mini Type-C Connector to Standard Type-A Port.
Used to connect Standard HDMI Cables to NEW Mini Connector used on some Camcorders.
Premium Quality Item Tested on Canon and Sony Hi-End Digital Camcorders.
Quote:
According to Silicon Image, the HDMI Mini connector is designed so that devices such as handheld video cameras and other playback devices such as portable DVD players -- and soon to be portable Blu-ray and HD-DVD players -- will be able to connect directly to a digital display. High definition content play without having to use separate video and audio cables.
---
We also Sell:
6ft Cable HDMI-A to HDMI-C #01797
3ft Cable HDMI-A to HDMI-C #01796

Adapter Cable Replacement for Single Cables Listed below.
Sony VMC15MHD VMC30MHD
Canon HTC-100

Listing of All three Connector Types for HDMI
Type-A Connectors is the Standard HDMI Connector.
Type-C Connector is what we call a Mini HDMI Connector.
Type-D Connector is what we refer to as a Micro HDMI Connector.

---
Partial List of Compatible Devices
CAMERA
CANON
NIKON
D3-HDMI
D300s-HDMI
D3100-HDMI
D5000-HDMI
D700-HDMI
D90-HDMI
L110-HDMI
P100-HDMI
S60-HDMI
S6000-HDMI
S8000-HDMI
SONY
HDR-CX6-HDMI
HDR-SR5-HDMI
HDR-SR7-HDMI
HDR-SR8-HDMI