USB to IDE Converter 44 or 40 Pin Kit with Power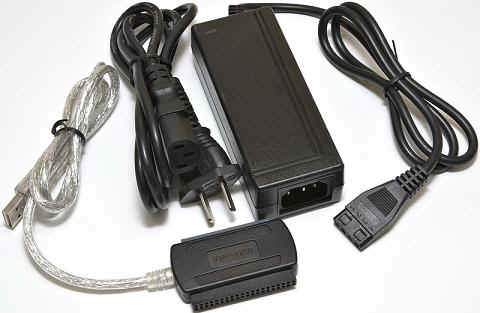 Description:
USB 2.0 TO IDE CABLE FOR 2.5"/3.5"/5.25" DRIVE WITH POWER ADAPTER
The USB 2.0 to IDE Drive Adapter implements a bridge between one USB port and one ATA or ATAPI based mass storage device port. The USB 2.0 to IDE Drive Adapter turns any IDE drive into a convenient external drive. Easily transfer files from computer or notebook, back up files, or store large file archives on hard drives. The Hi-Speed USB interface provides for easy installation with its Plug and Play design. The adapter supports all existing IDE/ATAPI devices such as Iomega Zip, CD-ROM, CD-RW, DVD-ROM and IDE hard drives.
2.5" Laptop Drives (with the included 2.5" to 3.5" Converter)
3.5" Desktop Drives (works with all brands, including Maxtor, Seagate, IBM, Hitachi, Samsung, Western Digital and etc, up to 512GB)
5.25" CD-ROM, CD-RW, DVD-RW
Techinical:
USB 2.0 to IDE Cable
Connect any device with an IDE Interface to a PC with USB interface
Transfer rate Approx. 480 MBps
Complies with USB 2.0 standards
Backwards compatible to USB 1.1 standards
Complies with ATA/ATAPI-66 Spe. V1.0
Easy to Install
Supports IDE and enhanced IDE hard drives
Supports ATA/ATAPI CD-ROM/R/RW DVD-ROM and more
External power adapter for IDE/ATAPI devices
Linux compatible
Compatibility:
Microsoft Windows 98/98SE/ME/2000/XP
Mac OS 9.2 or higher
Linux 2.4.X
Included in Box:
USB 2.0 to IDE adapter cable
2.5" to 3.5" Adapter
Power adapter and cord
Driver CD
---
I know this is obvious but we have had some not so bright folks order these for
ZIF Socket Drives and Centronics Connector Drives. This will NOT Work on these Connectors.
Please do not order this if you do not have standard 2.0mm Pin Spacing or 2.54mm Pin Spacing on your drive.