LFH-59 Cable DMS-59 DY599A NVIDIA-PNY-HP DVI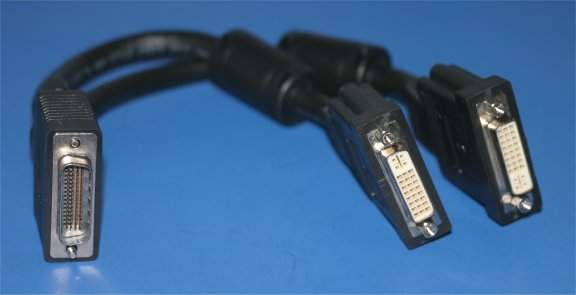 Cable for the DMS-59 Connector to DUAL DVI.
Used on High End Workstations.
Including HP and DELL
NVIDIA Graphics Cards
Most popular Part Number is DY599A
HP Part Number DL139A
Dual DVI to LFH59 Connector.
The LFH-59 Connector is 4 Rows of 15 Pins.
Connect your nVIDIA or PNY, Quadro, multiple display graphics cards with our LFH-59 cables with gold-plated contacts that provide full conductivity with no data loss. Many high-end work stations utilize multiple display graphics cards that only have a single LFH-59 (also known as DMS-59) connection. A breakout cable is necessary to convert this single connection into two more common monitor interfaces such as DVI or VGA.
Wikipedia information
Equivalent Part Numbers:
Tripp Lite P576-001
Dell DY599A
Quiktron 2102-38064-9IN