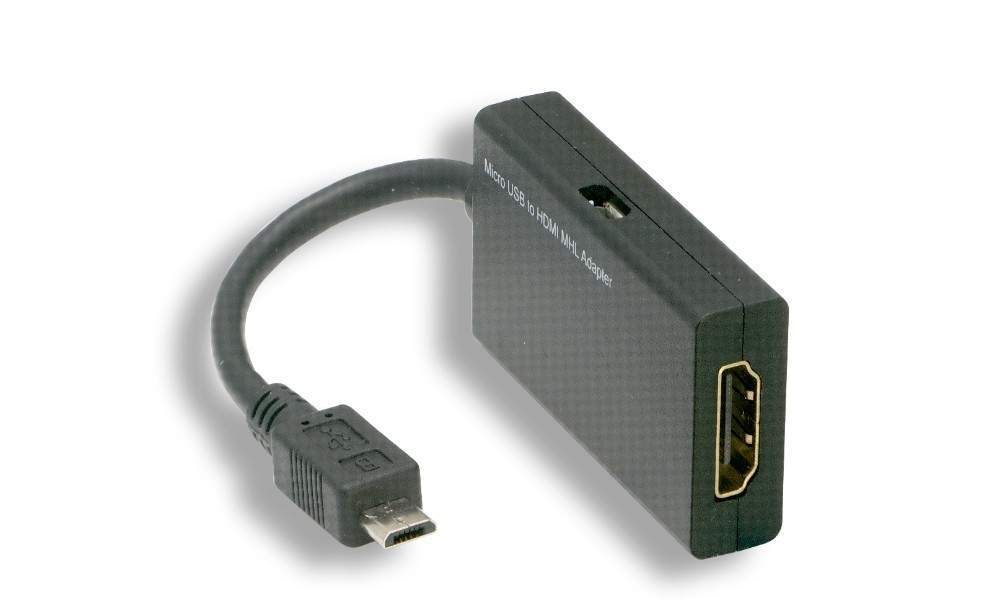 MHL to HDMI Adapter
The Mobile High-Definition Link (MHL) is a new standard for use with tablets and smartphones. It sends the audio and video signals through the micro USB connector and converts it to an HDMI signal for use on HDTVs. The signal remains in digital format throughout the entire transmission and conversion process, so no quality is lost.
This adapter is designed to this new standard and allows you to connect your MHL device, such as an HTC EVO 3D or Samsung Galaxy S3, to your high-definition TV. It supports all video resolutions, including 1080p, and up to 8 channels of audio (for 7.1 surround sound). It also supports 3D video and HDCP media protection.
Some devices (such as the HTC EVO 3D) can supply sufficient power from their internal batteries to drive the adapter. For others, or in the event you want to charge your device while using the AV output, you can plug your charger into the micro USB port on the side of the adapter.
The current list of MHL compatible devices from the top three Android phone manufacturers includes:
Compatible Mobile Devices
Samsung
Galaxy S III (GT-i9300)*
Verizon Galaxy Nexus LTE
Sprint Galaxy Nexus
Galaxy Nexus (i9250)
AT&T Galaxy Note LTE 5.3
Galaxy Note 5.3
Sprint Epic 4G Touch
AT&T Galaxy S II Skyrocket (i727)
T-Mobile Galaxy S II (T989)
AT&T Galaxy S II (i777)
Galaxy S II (i9100)
Infuse
Galaxy S4*
HTC
One XL
One X
One S
EVO 4G LTE
Raider
Velocity
Vivid
Rezoind
Amaze 4G
Sensation XE
JetStream 4G
Sensation 4G
EVO View 4G
EVO 3D
Sensation
Flyer
LG
Optimus 4X HD
Optimus LTE II
Optimus LTE Tag
Optimus 3D Max
Optimus 4X HD
Optimus Vu
Verizon Sepctrum
Prada
Nitro HD
* The Samsung Galaxy S III and S4 requires the use of an 11-to-5 pin Micro USB adapter to use a standard 5-pin MHL adapter.
See Part
80522