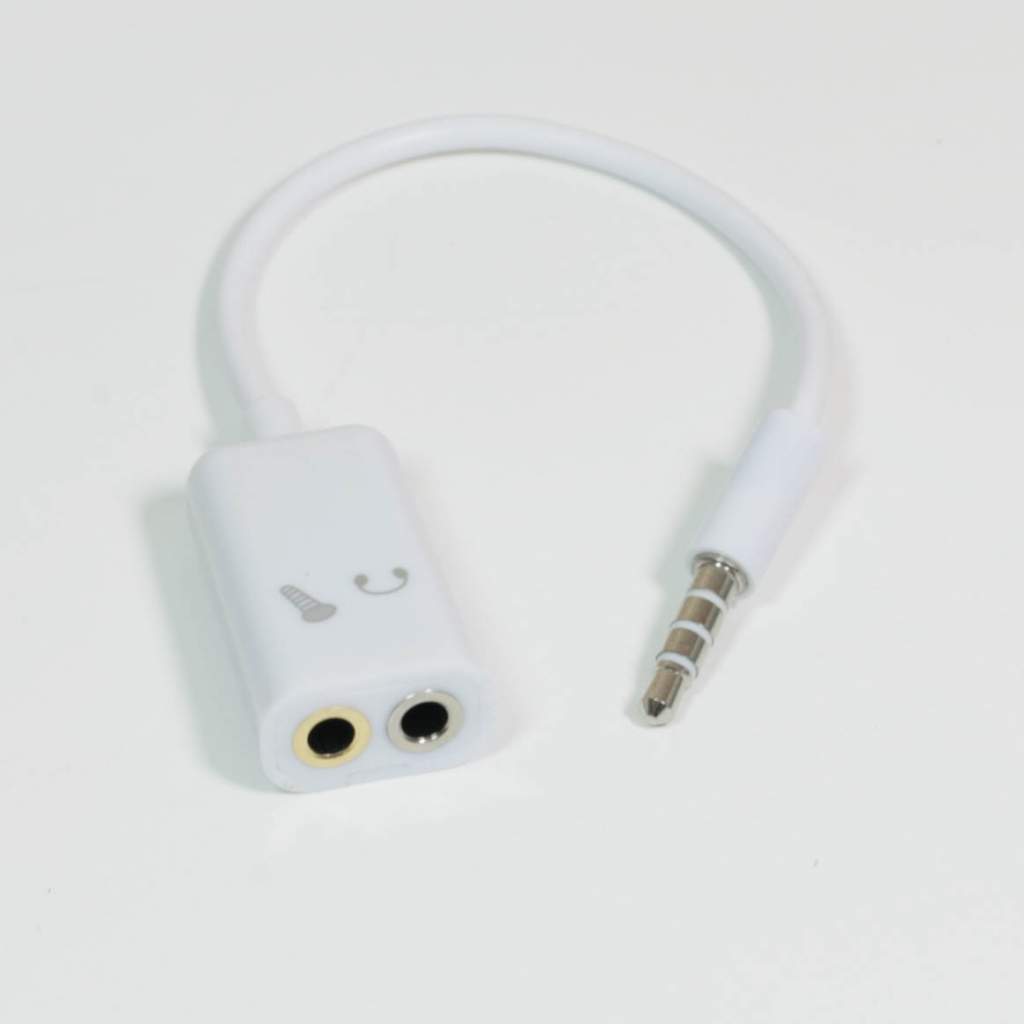 Use separate Headphones and Microphones in a 3.5mm TRRS Connector Jack like those used on many Apple Devices.
In White Color.
Audio cable for iPad and smartphones (TRRS male to 1/8 TS female input & 1/8 TRS female output) - 1 Foot
Record your voice while simultaneously listening through your headphones with this Audio cable for iPad and smartphones.
Typically with other cables you can only record your voice with an external microphone, or simply listen to your tunes with your headphones. This cable gives you the ability to record your voice or musical instrument(s) through your iPhone, Android, or other device, and simultaneously listen through your headphones. Once this cable is plugged in you are good to go! Record and listen with your favorite third party application (GarageBand, AmpliTube).
The 4-conductor TRRS plug on this cable uses the CTIA standard configuration, which puts the microphone signal on the sleeve (versus being on the second ring in the OMTP standard). The CTIA standard has always been used by Apple and HTC, while older Samsung, Nokia, Sony Ericsson, and Wiko devices initially used the OMTP standard. However, the latest versions use the CTIA standard. This cable is therefore compatible with:
iPod touch 3rd Generation and later versions
iPhone 3GS and later versions
iPad (all versions, including iPad mini)
Samsung Galaxy S version 3 and later
Samsung Galaxy Note version 2 and later
Any Android device using the CTIA standard TRRS connector with the microphone on the sleeve, as described above
While the TRRS plug is wired to the CTIA standard, the TRS headphone jack and TS microphone jack use standard wiring. The microphone input is compatible with microphones equipped with either a TS or TRS connector, such as those used on PCs. A combination mic-headphone assembly, such as those normally used with smartphones, is not a compatible input device.
Usage Notes:
Plug the 3.5mm (1/8) TRRS plug into the headphone jack on your compatible smartphone or tablet.
The smaller of the two 3.5mm (1/8) female jack bodies is the TRS stereo headphone output. Plug your standard earphones or headphones into this jack.
The larger of the two 3.5mm (1/8) female jack bodies is the TS mono microphone input. Plug your standard PC style microphone into this jack.
This cable only provides the electrical connections, allowing the physical use of the external microphone. To record the signals sent to the device you will need to have a software app, such as GarageBand for iOS.
If using GarageBand for iOS note that the app generally cancels the monitor output during recording. This can be modified in Settings under Crosstalk Protection. Be sure to minimize the input volume first.